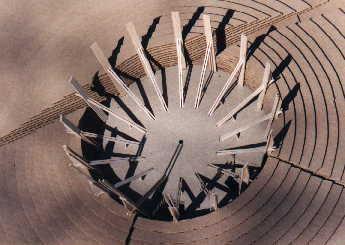 This temple design recreates the experiences of assumed comfort in the world, disorientation, and then greater understanding of the world. It consists of two spaces, one atop the other. Visitors enter the first space along a path which cuts into the crest of the ovular clearing where the temple is located. It is a circular patio in the earth which opens to the sky. The centrally focused space feels secure with the solid earth below and the infinite sky above.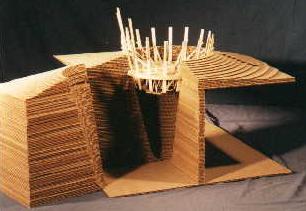 Visitors then go down to the disorienting space below, a deep cone excavated into the Earth. The heavy patio now looms above the visitors as they traverse a circular, glass walkway. The bottom of the cone is a pool of water, lit from below so as to appear bottomless. The visitors "world" has been turned upside down, with heaviness above and infinite expanse below.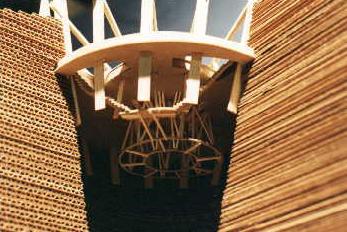 The visitors then return to the upper space, but understand the space much differently. The patio no longer feels secure, as it is known to have a vast pit below it. Although the visitors are still receiving exactly the same visual and spatial information, they better comprehend the true nature of their surroundings. They have been "Copernicized." Through order, an architect carves out a controlled experience which conveys architectural meaning.